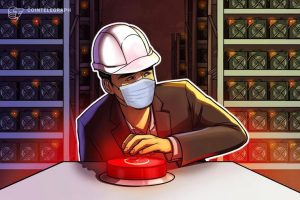 Due to the recent Corona Virus outbreak in China, to further reduce the chances of widespread infection the government has taken a series of protective measures to keep the current situation under control.
Thus single handily affecting the business across the nation under the current quarantine situation people are staying where they are and are unable to return to their respective work.
According to BTC.top CEO Jiang Zhuoer's Weibo post on 4th of Feb that suggested that all his mining machines have been forced to shut down in one of the mining farms that he owned in a remote region in China.
As per Zhueor's post, none of the personnel at the mining farm had stopped working still they are not allowed to work at this moment and also none of the maintenance staff has been allowed to leave this area under the quarantine control period.
The current situation has made a delay in aftersales services provided by the major Bitcoin mining machine companies in China.
Taking Bitmain and Cannan Creative under consideration which is the two main mining chip manufacturers in China with Bitmain producing 66% of the World's cryptocurrency mining hardware respectively.
To take action over the outbreak the firms have issued an official notice on their respective websites about the delays in their after-sales services until Feb 10.
All this together worried out most of the mining companies that these two factors are going to have a stronger impact on the maintenance of mining equipment and the delivery of new mining machines.