Eerie Fractal: Bitcoin Price Will Soon Go Vertical, Exploding Higher From $10,000 amid nCov2019 Fears
Over the past week, Bitcoin has been on an absolute tear, rallying by 8.7% in the past seven days, per data from Coin360. The price of the leading cryptocurrency's latest rally has been marked by BTC ripping past key price points in the $9,000s, then most recently decisively taking the psychological $10,000 level.
Although already impressive, analysts expect BTC to extend its gains in the coming days, citing chart and technical analyses suggesting Bitcoin will gain dozens of percent in the coming weeks and months.
Here is more on some of those analyses.
Bitcoin Could Soon Go Vertical
While the price of crypto seems to move randomly, similar bouts of price action appear time and time again in patterns called "fractals." One such fractal was recently identified by prominent cryptocurrency day trader Jonny Moe, whose work NewsBTC has covered in the past.
On Sunday, the analyst shared the below chart online, showing that Bitcoin's price action since the start of the year is eerily reminiscent of that seen in April and May of 2019: both periods saw BTC trade in an ascending/rising wedge, marked by five taps of the wedge lines, three on the top and two on the bottom.
In 2019, this ascending wedge pattern broke upward, with the price of Bitcoin going vertical, rallying by 30% in a few days' time after it broke out of the chart pattern.
Now, the wedge has yet to break. Though, should the fractal play out, meaning the price action plays out as it did in 2019, that means that Bitcoin could be trading above $12,000 or $13,000 — around 20% to 30% higher than the current price of $10,150, respectively — by the end of next week.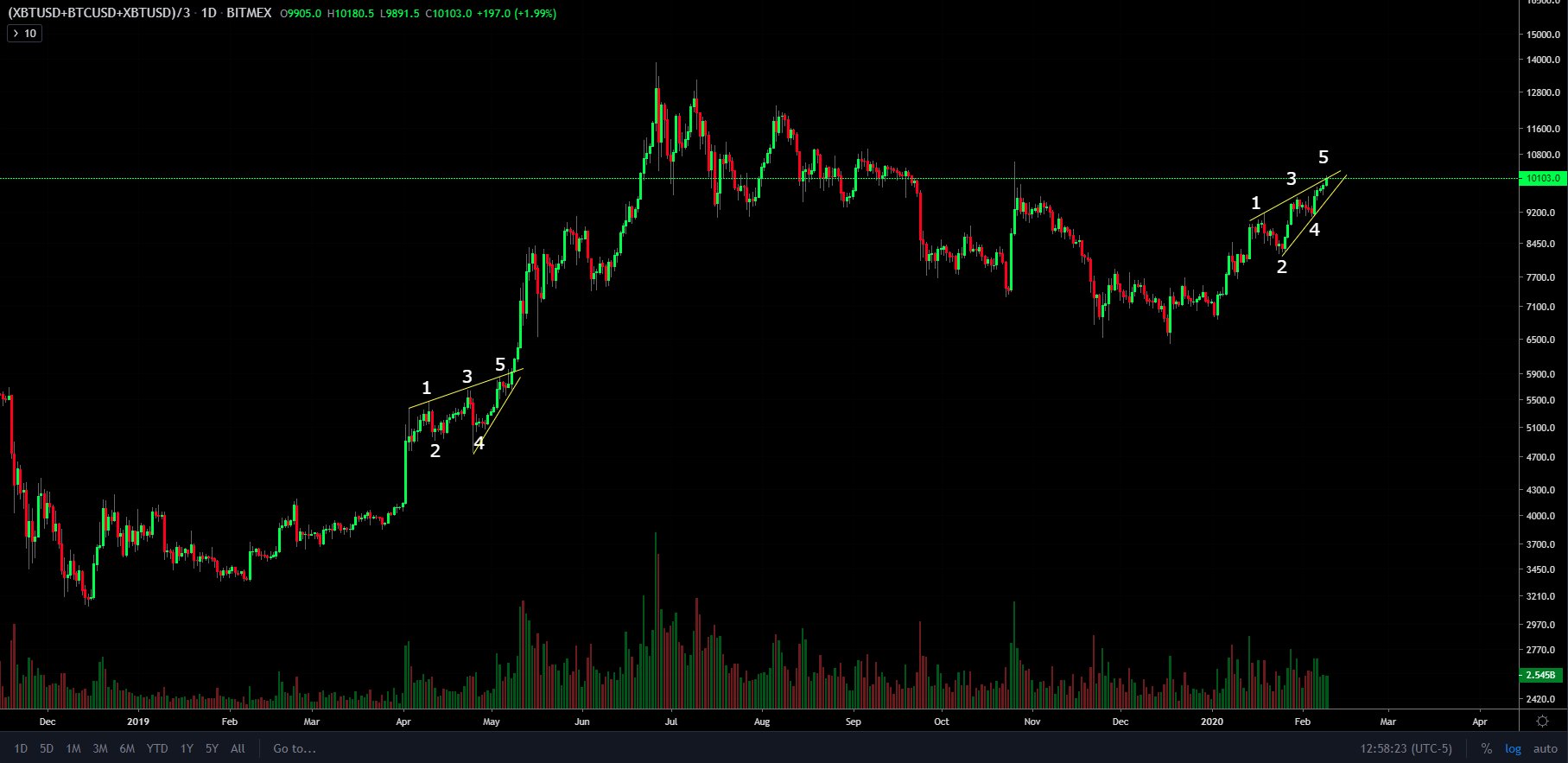 As crazy as this may sound, there are other analyses also suggesting Bitcoin will soon continue even higher, moving even faster than it did before.
Per previous reports from NewsBTC, BTC could soon explode higher as it is on the verge of breaking above a key historical descending resistance, which has constrained price action since the $14,000 top seen in June of last year.
Trader Mr. Anderson wrote the following, referencing a prior tweet in which he stated that Bitcoin could soon bounce off a historical trendline to explode into a full-blown bull market.
"BTC: I love it when a good plan comes together. I had this one drawn out 6 months earlier. But, you can check the date on the Chart for when this became scenario 'A'" he noted while referencing the key levels seen on the below chart.
$BTC
I love it when a Good Plan comes together
I had this one drawn out 6 months earlier. But, you can check the date on the Chart for when this became scenario "A"